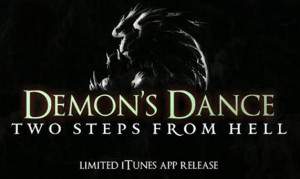 Information:
Edit
Demon's Dance was an "Two Steps From Hell" app-exclusive album published by Two Steps From Hell in 2012. It was a compilation album that featured 18 songs from industry albums All Drums Go To Hell, Pathogen, Nemesis, Legend, Ashes, The Devil Wears Nada and Illumina as well as one new composition. A number of these songs would go on to be re-released on Halloween, Classics Volume One and Legacy and the album itself would become unavailable after the app disappeared from online stores.
Track List:

Edit
Tracks with a * are altered from their original versions.
Since the album was released on an app and did not list the composer's name next to the individual songs, some are classified as being created by an "unknown" composer as no information exists as to who the actual composer is.
This album can be thought of as a "Best of Legend" album, as it features six songs from it.
This was currently the only album intended for the public to feature Troels Folmann as well as uncredited songs.
This is one of six albums not available on Extreme Music, alongside Archangel, Halloween, Colin Frake on Fire Mountain, Legacy and Classics Volume Two.
This is the first time tracks from Illumina have been featured on an album that was intended for the public.